Mladen Kljaic and MKM Group Australia Provides solid Investment in Warwick's Current Boom
MKM Group's Orchard Grove estate in prestigious Rosenthal Heights is meeting the housing market need for affordable, modern family living. See more
Brisbane, Qld – Mladen Michael Kljaic and MKM Group Australia are providing a solid investment in Warwick's current boom. Warwick is located in South East Queensland, 2 hours from Brisbane city and is currently one of a few towns that have massive growth forecast.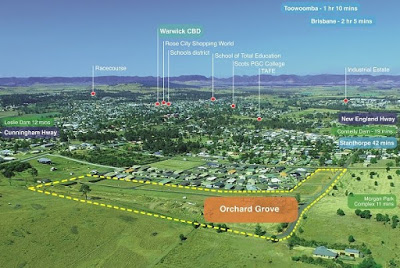 Just recently a $350 million innovative Solar Farm is bringing 'green energy' to Warwick & the Southern Downs Region. This has been supported by over $100+ million in Commercial property sales in the past 12 months which illustrates that businesses and residents are taking full advantage of the Warwick region.
"We are delighted to see Warwick boom – it's time. The growth is all sustainable – with government and big business investments embracing new technologies to create greater efficiency, higher profits and a bright future," says Mladen Michael Kljaic from MKM Group.
MKM Group's Orchard Grove estate in prestigious Rosenthal Heights is meeting the housing market need for affordable, modern family living. Centrally located to all conveniences in a vibrant and growing regional city, Orchard Grove offers a mix of designer homes, duplex pairs and stand alone duplex residences which will be attractive to new and existing families in the area, as well as astute investors.
With 875 new permanent jobs coming to Warwick over the next 2 years, these will be coming in various forms such as the $40 million Rose City Shopping World redevelopment, $32 million Churches of Christ new Aged Care development and many others. Orchard Grove offers outstanding properties for owner occupiers and investors, these properties are handled by the professional team at Aus Sales Real Estate for more information on these properties visit www.aussalesrealestate.com.